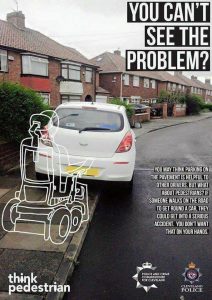 Don't Block the Drop or the pavement, ok !!
Short post but boy is this well done. One of the best images I've seen supporting the spread of campaigning against those who insist on using pavements as car parks or blocking Drop kerbs. Here's the thing, it's dangerous, it's selfish, it sucks. You are putting lots of people at risk, not just those using a wheelchair. You are disabling loads of us when there is no good reason to make things even tougher to get around.
Love this very clever representation of just what it means to park on the pavement. Please stop doing it.
Cheers, Mark